Women farmers and students curious about CRA program at Bihar 'Kisan Mela'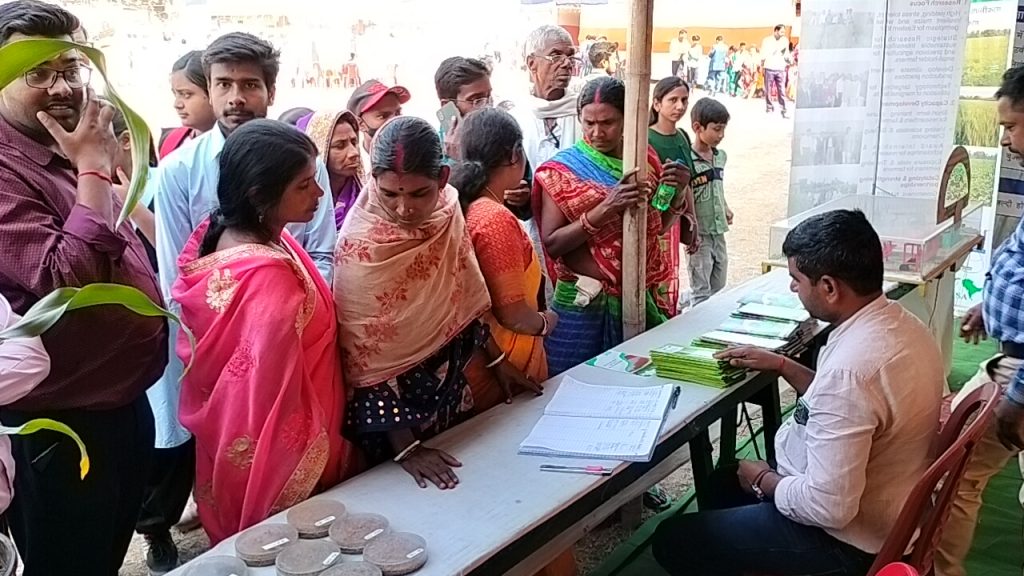 Bihar, India – On the last day of the Kissan Mela at Bihar Agricultural University (BAU) and Rajendra Prasad Central Agricultural University, the Climate Resilient Agriculture (CRA) stall of Borlaug Institute for South Asia (BISA) saw a tremendous turnout of women farmers and students. The Bihar government' CRA program is aimed at developing and promoting technologies and practices that help farmers adapt to the changing climate and increase their productivity sustainably.
The farmers, scientists and students enquired about climate resilient varieties and technologies from BISA scientists and technical staffs. They witnessed live demonstrations of soil moisture meter and green seeker. Additionally, the video on wheat trials at BISA and CRA technologies showcased during the Kissan Mela was the center of attraction for many visitors.
The women farmers showed keen interest in seed production in their field and were interested in embracing new crops like millets, mungbean, and soyabean under the CRA program. The farmers coming from CRA villages gave testimony to Non- CRA farmers on how the CRA program has helped in getting better returns and saving, and expenses have decreased significantly.
Dr. Raj Kumar Jat, Senior Scientist and Incharge BISA, Pusa Samastipur, expressed his satisfaction with the large turnout of farmers, especially women farmers, at both centers of Kissan Mela. He added that the large number of farmers' presence at both centers is a testimony of how the CRA program is bringing positive change in the lives of farmers in the state.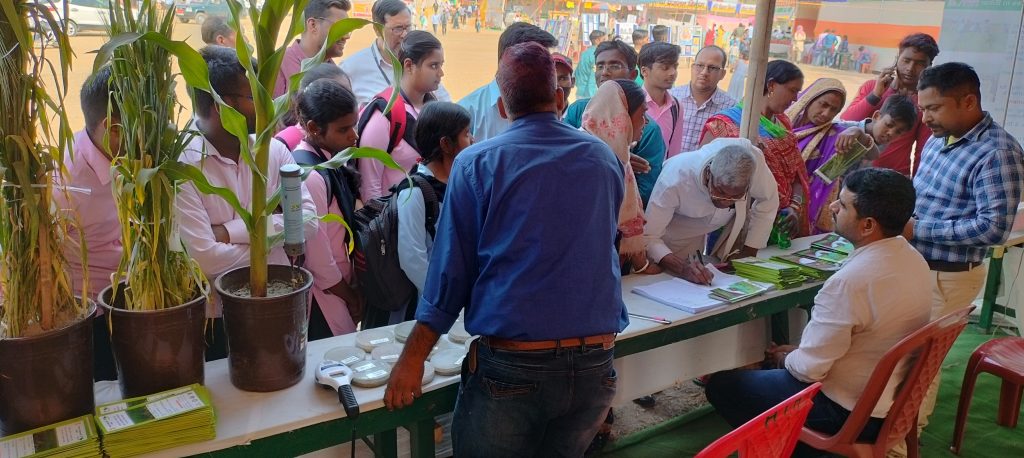 Looking into the huge turnout of farmers the CRA Stall was open from 10 am in the morning to 7:30 pm in the evening. The farmers from different districts kept visiting CRA stall on all three days of the Kissan Mela.
BISA is a non-profit international research institute dedicated to food, nutrition, and livelihood security as well as environmental rehabilitation in South Asia, which is home to more than 300 million undernourished people. It is a collaborative effort involving the International Maize and Wheat Improvement Center (CIMMYT) and the Indian Council for Agricultural Research (ICAR). The objective of BISA is to harness the latest technology in agriculture to improve farm productivity and sustainably meet the demands of the future. BISA is more than an institute. It is a commitment to the people of South Asia, particularly to the farmers.