Climate Action
BISA uses Climate-Smart Village approach to strengthen resilience in agriculture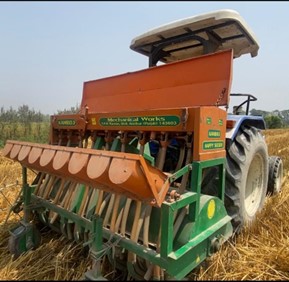 BISA farms are the best examples of large-scale demonstration of in-situ management of rice residue demonstrating 'No Burning' through appropriate use of Super SMS fitted combine harvesters and Happy Seeders.
BISA hosts Climate Change Agriculture and Food Security (CCAFS) research program of the CGIAR, that envisages generation of innovative solutions to promote more adaptable and resilient agriculture and food systems; mainstream climate variability and climate change issues into development strategies and institutional agendas; enhance people's understanding of climate change issues; and ensure that decisions on policies and actions are based on the best information and available data.
In collaboration with national institutes, BISA is implementing a Climate Resilient Agriculture (CRA) program in Bihar which is financially supported by the Government of Bihar and the Ministry of Environment, Forests and Climate Change (MoEF&CC), Government of India.
In the eastern Indo- Gangetic Plains, which is primarily a rice-wheat and rice maize cropping system, long-term field experiment has been established to develop resource-efficient and viable management options for resource-poor farmers.
• BISA is attempting to alleviate the drudgeries of farmers especially women, through the popularization of small farm machineries in different Indian states, mainly Maharashtra, Bihar, and Madhya Pradesh.
The Department of Biotechnology, Government of India, has recognized BISA as the leader of genomic selection in wheat in India.