UK Delegation Visits BISA Centre at Ladhowal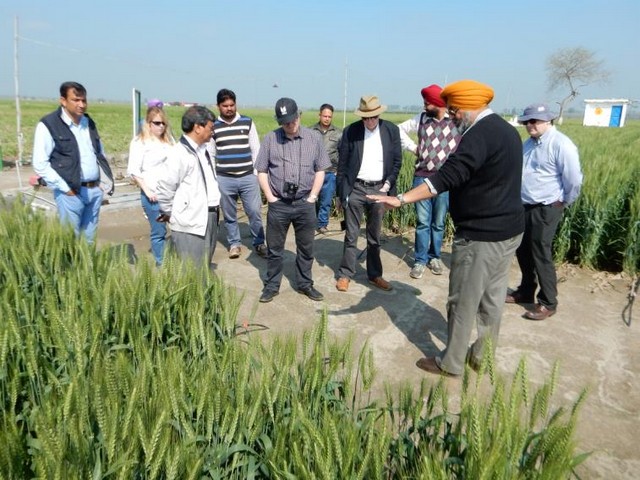 A delegation from the Rothamsted and the University of Bristol, United Kingdom led by Dr Peter Shewry visited the BISA research centre at Ladhowal, Ludhiana, Punjab (India) on March 17, 2015. Dr Malcolm Hawkesford, Dr Simon Griffiths and Dr Sacha Allen also accompanied the delegation. Dr H S Gupta, Director General, Borlaug Institute for South Asia (BISA) welcomed the delegation, gave a formal introduction of the BISA team and described the objectives of BISA. Dr H S Sidhu briefed the delegation about the farm development and the research trials being carried out at the centre.
After the introduction, the delegation visited many of the ongoing research trials at the centre, and expressed their happiness at the work being done there. They were particularly impressed with the trial for relay planting of mung bean into standing wheat crop. Dr Gupta told the delegation that ~ 3mha of rice-wheat (RW) system could be converted to R-W-Mung bean by relay planting, and the farmers, who were unable to harvest their mung crop after wheat because of the pre-monsoon showers, could adopt this technology for the advancement of mung seeding.
The delegation expressed their desire to collaborate with BISA especially in the area of precision water and nutrient applications.