ICAR representatives visit 'BISA Research Farm' in Punjab
By Dr.Uttam Kumar and Pradeep Bhati
May 15, 2023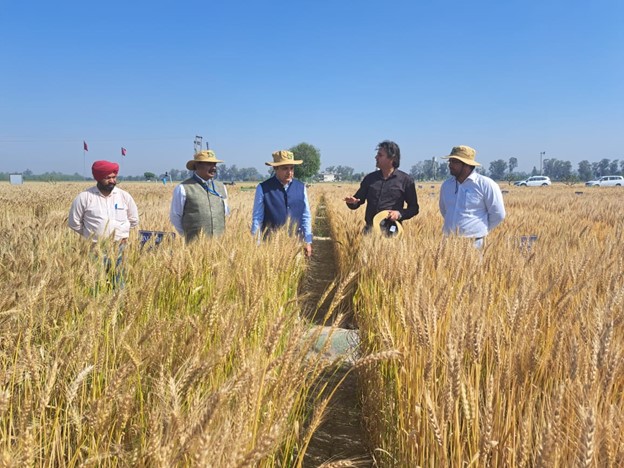 Representatives from the Indian Council of Agricultural Research (ICAR) visited the BISA research farm in Ludhiana on April 7, 2023. Dr. T.R.Sharma, Deputy Director General (Crop Science), ICAR was joined by Dr. R.K.Singh, Additional Director General, ICAR.
The ICAR representatives did a tour of the farm which is spread over 500 acres of land. Their tour included visits to different facilities of the farm like various wheat research trials, molecular laboratory, Precision Nitrogen Nutrition facility, seed processing unit, and farm machinery section.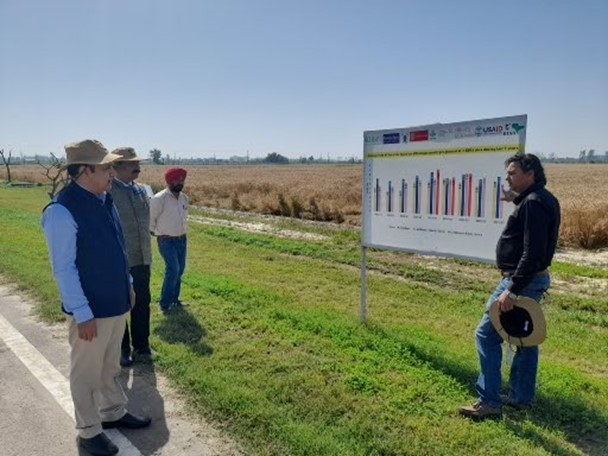 Dr. Uttam Kumar, Wheat Breeder at BISA farm in Ludhiana gave a brief talk on the vision, mission and partnerships of CIMMYT-BISA-ICAR with National Agricultural Research Systems (NARS). Further, he explained in detail about research trials planted at all BISA sites. He shared that a total of 16787 entries and 19256 plots were planted at the Ludhiana farm during the 2022-23 season. He also explained about South Asia Bread Wheat Genomic Prediction yield trials which were planted in three farms of BISA (Ludhiana, Jabalpur and Pusa), two locations of Pakistan, one site of Bangladesh, two locations in Nepal and eight environments in CIMMYT Obregon Mexico. He also showed them the various wheat research trials viz; BNI, SABWGPYT, IYTs, EPC and other stripe rust screening nurseries.
Dr.Uttam also gave an overview of the yellow rust screening trials. He explained that more than 10,000 lines were screened every year at BISA Ludhiana and the same lines were screened for spot blotch at BISA Pusa in Bihar.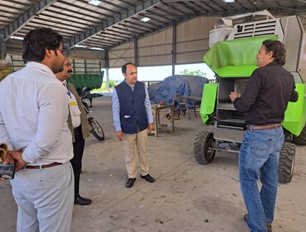 The ICAR representatives also gained an understanding of how all research trials are planted mechanically except two-row stripe rust screening nurseries with high precision and would get harvested by wintersteiger mechanically.
Dr.T.R.Sharma showed special interest in the BNI project and other breeding efforts on heat tolerance in wheat. He also appreciated the digitization of some operations in precision phenotyping at BISA farms.
"It was an excellent visit and I am very impressed by the large-scale experiments that are being done at BISA farms in India. BISA's program on crop improvement and resource management being implemented through minimal staff strength is commendable. BISA's contribution to the national research agenda and immense support to NARS in a big way is highly praiseworthy" said Dr. T. R. Sharma.