Chief Minister of Bihar Assures Support to BISA
The Chief Minister of Bihar, Shri Jitan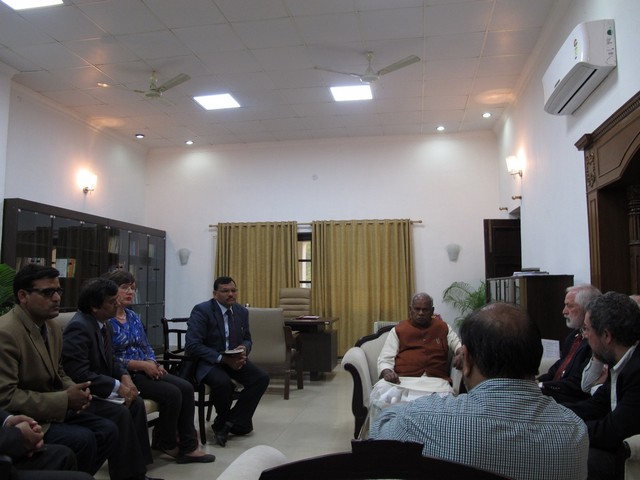 Ram Manjhi, assured support to the efforts of the Borlaug Institute for South Asia (BISA), when the Executive Committee Members of BISA called on the Chief Minister in the presence of the state officers, Shri Amrit Lal Meena, Principal Secretary to the Chief Minister, Shri Tripurari Sharan, Principal Secretary (Agriculture), Shri Dharmendra Singh, Director (Agriculture) and Shri Gopal Singh, Officer on Special Duty to the Chief Minister, on February 3, 2015.
BISA, established in India in 2011, is a new initiative of the International Maize and Wheat Improvement Centre (CIMMYT) and the Indian Council of Agricultural Research (ICAR). BISA has one of its centres in the eastern Indo-Gangetic Plains in the state of Bihar.
During the meeting, Dr Thomas A Lumpkin, Director General, CIMMYT gave an overview of BISA and impressed upon the Chief Minister the need for early transfer of technology relevant to the farmers of Bihar. "Ever increasing energy prices, declining natural resources and climate variations have left farmers with diminishing returns from their farms. The farmers of Bihar require technologies that increase their farm profits under the changing climatic and economic situations. BISA-CIMMYT has developed climate resilient conservation agriculture practices which reduce production cost and improve farm profitability. Direct seeded rice, early planting of zero-till wheat and summer mung bean are the preferable options to conventionally transplanted rice and wheat which are both labour and energy intensive. Crop diversification with inter-cropping system and raised bed planting system is the other option to improve the farm profitability in Bihar" Dr Lumpkin said. Dr Lumpkin also emphasized on capacity building of farmers and extension workers to disseminate innovative agriculture technologies in farmers' field. He was confident that BISA could play an important role in capacity building.
The Chief Minister emphasized on developing model villages in every district of Bihar and agreed to provide all possible support. Dr John W Snape, Chair, CIMMYT Board of Trustees; Dr Hari Shanker Gupta, Director General, BISA; Ms Nicolle Birrell, Member, CIMMYT Board of Trustees; Dr Etienne Duveiller, Director of Research, CIMMYT-South Asia; Dr ML Jat, Dr Raj Kumar Jat, and Col Ashwani Yadav were also present at the meeting.