CIMMYT Emeritus Director General Dr Tom Lumpkin receives prestigious 8th Dr MS Swaminathan Award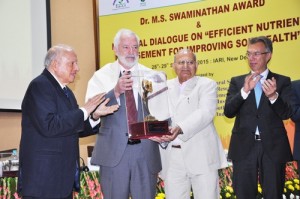 Dr. Tom Lumpkin, former CIMMYT Director General, received 8th 'MS Swaminathan Award for Leadership in Agriculture' in a glittering ceremony organised by the 'Trust for Advancement of Agricultural Sciences' (TAAS) at the Indian Agricultural Research Institute (IARI), in New Delhi on September 28. This year's award was a special occasion as the award was given away by Dr Swaminathan himself. The Award is conferred on individuals "who have done outstanding research work in the field of agriculture, animal sciences, and fisheries." The first award was given in 2005 by the President of India, Dr. APJ Abdul Kalam, to Dr. Norman E. Borlaug, Nobel laureate who led the development and spread of high-yielding wheat varieties in the developing countries during 1960s and '70, which culminated in Green Revilution that saved billions of people from starvation.
On this occasion, Dr Lumpkin said "I'm humbled and greatly honoured by this award. Swaminathan and Borlaug were visionaries who worked together and made their case courageously to the political leaders to get appropriate technologies into farmers' hands. We must do the same, if South Asia is to provide nutritious food for more than 1 billion people who will live here in 2050, without further degrading land or depleting groundwater."
While addressing the gathering, Dr Swaminathan praised the work of Dr Lumpkin in strengthening wheat and maize research in India and lauded his efforts in establishing the Borlaug Institute for South Asia.