BISA-PAU awarded for collaborative work on residue management
The Borlaug Institute in South Asia-Punjab Agricultural University (BISA-PAU) joint team recently received an award from the Indian Society for Agricultural Engineers (ISEA) in recognition of their work on rice residue management using the Super Straw Management System (Super SMS).
The uniform spread of rice residue is essential for the efficient use of Happy Seeder technology and maintaining uniform soil moisture in the field. Developed by researchers at PAU in 2016, the Super SMS is an innovative solution for paddy residue management in rice-wheat systems.
Through facilitating in-situ residue recycling, the Super SMS attachment for self-propelled combine harvesters will play a key role in tackling the problem of residue burning in the northwestern states in India and other parts of South Asia, thereby reducing environmental pollution and improving soil health. With these benefits in mind, the Government of India has since made the use of the Super SMS mandatory for all combine harvesters in northwest India. Harminder Singh Sidhu, a CIMMYT-BISA senior research engineer based in Ludhiana, has previously stressed the need for more sustainable methods of dealing with residue. "Happy seeder was found to be a very effective tool for direct sowing of wheat after paddy harvesting by combining harvesters fitted with super straw management system."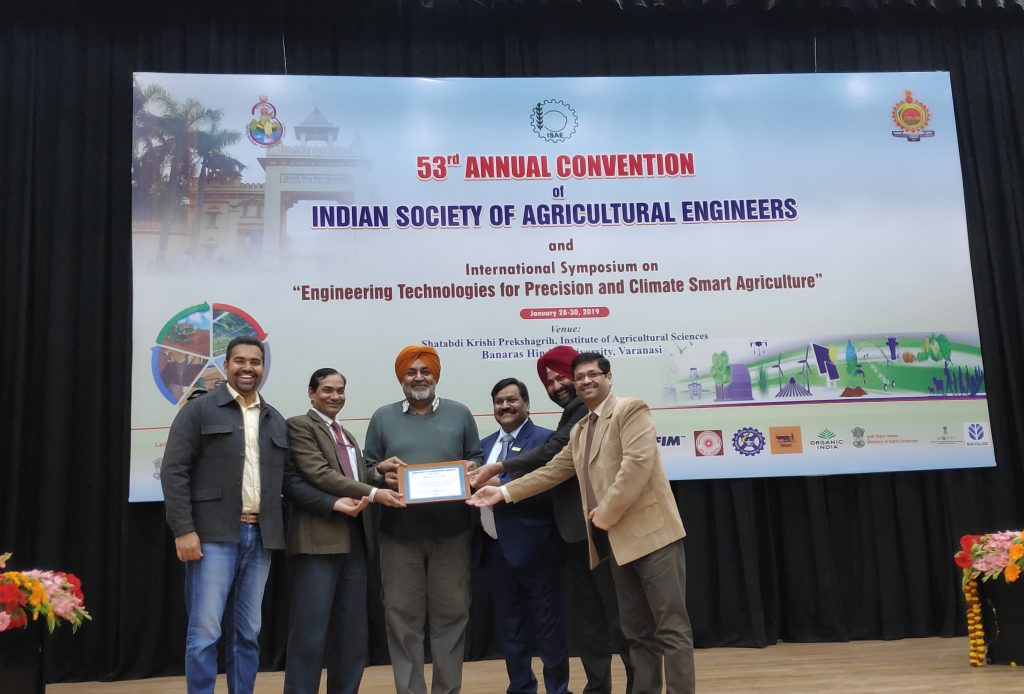 Trilochan Mohapatra, director general for the Indian Council of Agricultural Research (ICAR), formally conferred the ISAE Team Award – 2018 at the 53rd ISAE Annual Convention held from 28-30 January 2019, at Baranas Hindu University in Varanasi. Mohapatra acknowledged it as "a real team award which is making a difference on the ground."
The recipients acknowledged the role of local project partner New Gurdeep Agro Industries for its contributions to promoting the machinery. Within eight months of its commercialization, over 100 manufacturers in Punjab, India, had begun producing the attachment and over 5000 combine harvesters in the region are currently equipped with the Super SMS.
Trackback from your site.